Faculties
Faculty of Nursing Science
Department of Nursing Science
The Faculty of Nursing Science turns out nurses and public health nurses capable of solving a diverse range of healthcare issues. Students acquire the knowledge and skills nurses need and the human qualities that will make them trusted by patients and their families. They hone their powers of execution through practicums at the university's partner institutes, in the process growing into individuals capable of dealing with community residents' health issues and contributing to longer and healthier lifespans.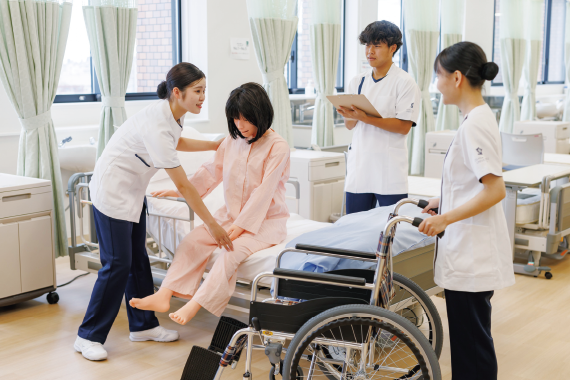 Features of the Faculty
Students polish practical skills through practicums at partners such as university-affiliated hospitals, community general support centers, and home-visit nursing services.
Through interactions with a wide range of healthcare professionals—including doctors, nurses, public health nurses, registered dieticians, pharmacists, dental hygienists, and certified care workers—students deepen understanding of community general care systems that meet diverse healthcare and nursing needs.
In addition to specialized nursing knowledge, students gain a well-rounded education, an ethical viewpoint, and communication skills.
Students are thoroughly prepared for national qualification exams.